On the Hunt For A Jewelry Armoire
Help! I moved into my new house five months ago yet my vintage jewelry and accessories are still in boxes on my bedroom floor. Not exactly a domain for inspiration or relaxation. I used to have a Heywood-Wakefield vanity, but that is going to be sold and waiting patiently in the garage. I actually don't really want another vintage vanity. As pretty as they are, they never seem to have enough storage space for my massive collection of vintage jewelry.
I have been looking for a more practical jewelry armoire. The problem is they didn't really exist in the mid century. At least  I can't seem to find any. With the exception of this one…
And best of luck to anyone trying to find a George Nelson jewelry armoire. Isn't it gorgeous?! Hm. Maybe I can hack one!
So I was ready to settle for this modern armoire with a definite mid century look.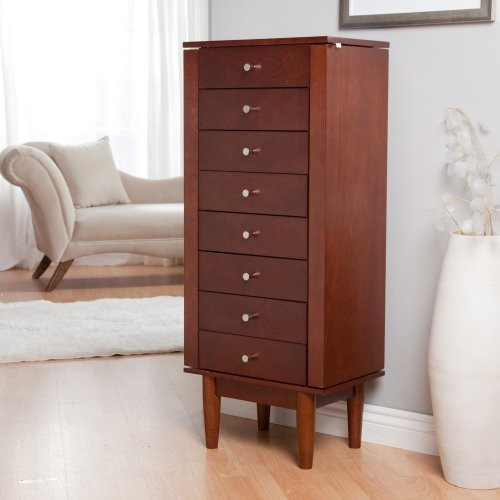 The walnut stain is perfect with my current bedroom furniture. But the universe is against me right now. This style is sold out! An espresso color version is available, but it's way too dark. I am back to square one. So I am asking for help!
Does anyone know of any mid century, retro, vintage inspired, not ugly jewelry armoires to control my chaotic jewelry collection? Leave a comment!
[like]
Sign up for the
newsletter
to receive discounts, sneak previews, and news.